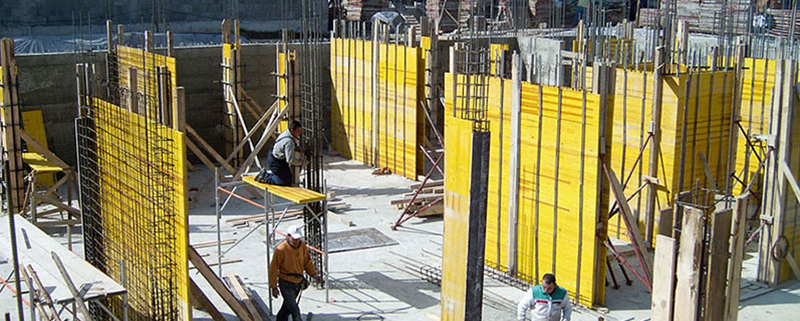 For over ten years, Toppanel has been trading and importing one of the most famous formwork on our market – yellow formwork board, and during that period we managed to perfect and find the best quality options and build cooperation with the largest factories and producers of yellow board. Because of this, we are able to offer the same board at competitive prices.
Yellow paneling is an inevitable material that is used mainly in construction, when making concrete walls. The positive features of this panel are its resistance to all weather conditions, it is made of spruce and fir wood. We advise you to use oil for formwork, by coating the board with the specified oil, it will make the yellow formwork even more durable and extend its number of uses. We always have yellow formwork on stock, it is available in the following dimensions: 1500x500x27mm; 2000x500x27mm; 2500x500x27mm; 3000x500x27mm. In addition to the yellow paneling, it is inevitable to mention its accompanying elements, which we also always have in our offer.
The most used elements are spacers, steel profile with hook, wedges and column brackets. Spacers – their function is to maintain the distance between the formwork, i.e. the thickness of the concrete wall. We offer spacers from 10cm to 80cm. Steel profile with hook – there is a hook at the lower end, through which the profile passes during assembly. Its use is to fix the formwork when pouring concrete. Wedges – they are used at the ends of spacers, in order to fix the same spacer and prevent the expansion of the formwork. Column brackets – Standard dimensions are 15/45cm, and 50-95cm, they are used to form larger poles. Also, we can offer you a column brackets special, if it is about specific poles. The advantages of column brackets are easy assembly, safe way of use, and an unlimited number of uses, if handled and stored correctly.
Yellow formwork used with associated metal elements allows you to perform construction works more efficiently and economically.
https://toppanel.rs/wp-content/uploads/2022/10/Zuta-Oplata-Blog2.jpg
532
800
khaus
https://toppanel.rs/wp-content/uploads/2022/10/Top-Panel-Logo-vector.svg
khaus
2022-11-19 19:06:33
2022-11-19 19:06:33
Yellow panels